Excel Protect Limited is a CCTV Suppliers and Manufacturers in Hong Kong China.

Excel Protect Limited is a professional manufacturer of CCTV products. Our mission is to offer security equipment of outstanding quality through constant product innovation and utilizing the latest technologies.
Excel Protect Limited is one of the leading manufacturers and cctv suppliers of Closed Circuit Television (CCTV) products. We specialize in providing an extensive range of CCTV cameras, and performing research and development in Camera DSP (Digital Signal Processors) for other renowned manufacturers. Our products include, but not limited to, IP cameras, NVR, AHD, CVI, TVI Cameras, Hybrid TVI DVR, Wide Dynamic Cameras, License plate recognition cameras, super low lux (starlight) cameras, and an extensive range of DVR. With years of experience in manufacturing CCTV equipment, we pride ourselves in offering state-of-the-art products through constant product innovation and utilizing the latest technologies. Our supply chain enables us the ability to produce a majority of raw materials and essential components internally, ensuring quality consistency, time to market, effective cost control, and flexibility.
Our experienced R&D team forms the backbone of Excel Protect and sets us apart from our competitors. With extensive expertise in engineering and product design, we are able to offer value-added products to our customers. From initial design through to final packaging, our R&D team strives to achieve excellence in product quality and reliability. Our equipment and machinery are primarily from Japan and the United States. Our professional knowledge and advanced equipment enables us to achieve low cost, efficiency and quality control, which in turn result in superior products and competitive pricing.
HD Surveillance Sysyems

It pays to do it right, the first time. Don't settle for cheap,low quality camera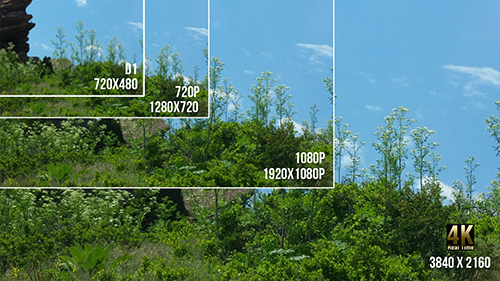 from big box stores will leave you unsatisfied with video clarity they have to offer, or the lack of support from a call center located halfway around the world. Excel Protect Limited CCTV suppliers offer complete HD security camera systems that include a DVR, cameras, cables, connectors and power supplies. Purchasing professional grade security camera equipment from Excel Protect Limited ensures you are getting top of the line quality that is unparalleled in security camera industry. We manufacture all the products we carry, and all our cameras and recorders come with a 1-3 year warranty. Take advantage of our online custom security camera systems page to make your own CCTV system. We have options for analog CCTV, IP,AHD,HD-CVI and HDTVI systems. Using our easy system builders you can go through step by step to configure the security camera package that works best for you. You can choose from our Expert Approved security DVR recorder, and IP camera NVR, or Tribrid DVR that's perfect for you, as well as our many CCTV cameras and accessories to configure the perfect system for your needs.
---
Internet Accessible

Remote view your security cameras over the web using our Free Apps for the iPhone,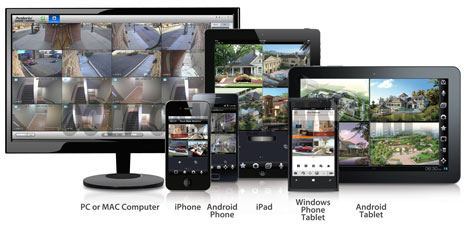 iPad, Android, and Windows mobile phones. Using our latest H.264+ DVRs and H.265 NVRs, all of our security camera systems have the ability to be viewed remotely and send motion alerts by email or push alert to your Smartphone. Regardless you use analog CCTV or HD TVI cameras that use coax cabling for the video feed, or IP cameras that use network cabling, remote viewing and motion alerts are a standard feature of all our systems which is made possible by our best in industry DVRs. Networking is established or using our QR code easy setup, you can view your surveillance cameras directly from your phone, tablet, or computer in as little as 30 seconds setup time! With camera systems by Excel Protect Limited CCTV suppliers, you can rest easy at home knowing your business is secure, or keep an eye on things at home while you're busy at the office!
---
NVMS-1000 Client Software

NVMS-1000 is a central management software designed for IPC,NVR, DVR, Video encoder. The user can use it to realize the centralized management of the surveillance system by adding IPC,NVR/DVR into the software.
Basic functions: Includes live preview, dwell preview, system record, playback and download, e-map, device management, user management, log search, alarm anagement .
Brand new user interface: Main panel as the unified entry, clearly classifies the main functions. Each function adopts dynamic Tab label for easy operation. Preview window has embedded toolbar and right-clicking menu; adopts accordion tree view control.
Monitoring management: System adopts resource tree to manage the monitoring points. And manage the devices according to area hierarchy.
E-map: Intuitively display the information of the monitor points deploy situation , alarm status.
Configuration management: Support device configuration locally and remotely. User can use the software to remotely configure the record schedule, image setting, alarm output etc. for the devices.
User management: User account types differentiate as Administrator, advanced user, common user. Administrator has the highest authority. The system supports account creating, changing and deleting, account right configuring, User account information checking.
Log management: User can search log information by log type( e.g.Alarm type, operation type etc.)
Data backup: To avoid data loss, this software supports exporting system configuration information for backup. And backup recording data according to time, event, recording type.